FR PU Foam Spray is a desired product in high demand since the advent of expandable polyurethane foam sealants . This particular grade of sealants boasts of being resistant to fire for up to 120 minutes. When you consider this time, you realise that these fire sealant foams are critical for applications in areas where there is a threat of exposure to heat and flames. Two common examples include kitchens in restaurants and residential apartments.
Anagha Engineers comes to you with a genuinely innovational product of this grade- Anaghafoam FR PU foam. It comes in a 750 mL aerosol can.
Where is FR PU foam spray generally used?
Besides the two examples listed above, here are some of the areas where you can find this grade of expandable PU foam to be used
In holes that require fire-retardant filling and insulating gaps around window and door frames.
For insulating the electrical supply boards and ducts to prevent a fire from developing in the event of electrical failure. This application is seen mostly inside buildings and walls.
Anaghafoam FR is also used in areas where there needs to be an isolation of smoke and fire between adjacent rooms, walls or ceilings.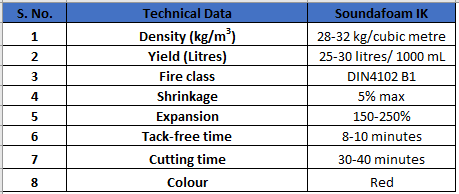 Properties of this FR PU foam spray:
The ability to slow down a growing fire until the appropriate fire containment department arrives at the scene.

This product meets the international standards for fire-retardant expandable polyurethane foams (B1 class according to DIN 4102). 

Anaghafoam FR fire sealant foam maintains its sealing properties against gas and smoke. 

Superb properties of adhesion against wood, glass, concrete and metals. 

It also offers excellent insulation against heat and sound.
How to Apply Anaghafoam FR PUF
Shake the can vigorously.

 

Moistening the surfaces on which Anaghafoam FR PUF is to be applied accelerates the rate of curing and promotes a positive effect on cell structure, efficiency and adhesion strength.

 

Holding the can is upside down, press the trigger so that the foam extrudes out of the can.

 

Since this is an expandable polyurethane foam, fill the gaps only up to 30-50%. 

Keep shaking the can during the application. This promotes the expansion activity of the foam.  

After application, remember to remove any residual foam that may have spilt outside the cavity. The cutting activity is done using acetone or specialised PU foam cleaners. 

Clean the gun and adapter using the cleaner. 

Allow the foam to cure. Then you can paint it.
Note: This product is not UV-resistant