Soudal PU Sealant
Soudaflex 621, Soudal PU sealant , has been especially developed for Indian subtropical conditions after a decade of research, practical application alongwith understanding of Indian climate conditions. it is most suitable in high temperature as well as extreme humid conditions. Soudaflex 611 is particularly designed for sealing application in areas including Bus & Coach, Truck, Earth moving Equipments, Tractor, Forklift, OEM, Repair Auto After Markets also various other commercial and industrial vehicles.
Further, it bonds a variety of material including FRP, GRP, timber, plywood, metals, particularly aluminium (including
anodized components), sheet steel (including phosphated, chromated and zinc-plated components), coated metals and paint coatings (two-part systems), ceramic materials as well as plastics.
Characteristics 
Not only bonds well to a wide variety of substrates but also shows excellent resistance to many chemicals.
One can overpaint and has non-sag consistency.
Especially developed for automotive and bus industry, bodywork, container applications.
Suitable for making permanent elastic seals of high adhesive strength.
Good resistance to aging, weathering – thus, suitable for indoor and outdoor.
Vibration and sound damping properties.
Sandable & over-paintable with many water,
Lastly, solvent based paints (preliminary tests recommended).
Applications of Soudaflex 621 Soudal pu sealant
General coach-building, caravans & motorhomes assembly and repairing.
Thermal & acoustic insulation technology in refrigeration, air-conditioning
Suitable substrate materials include timber, metals, particularly aluminium (including anodised
components), sheet steel (including phosphated, chromated and zinc-plated components), metal primers and paint coatings (two-part systems), ceramic materials and plastics
For elastic bonding to untreated metals & plastics the use of Primers is recommended
Storage/Shelf Life:
The storage and application of PU sealant affect the shelf life and usage. The shelf life of all given is understood to be 12 months from the date of manufacturing. It is to be kept in temperature from 5°C to
35°C.
In the specific case of India, since practically the temperature rises up to 45°C to 50°C, the sealant is usable. Due to extreme heat or humidity, the skin formation time of the same may be little faster in those specific conditions. Although, the sealant can still be used with effectiveness.
Packaging & Colour : Black,  White
Packaging: 600ml sausage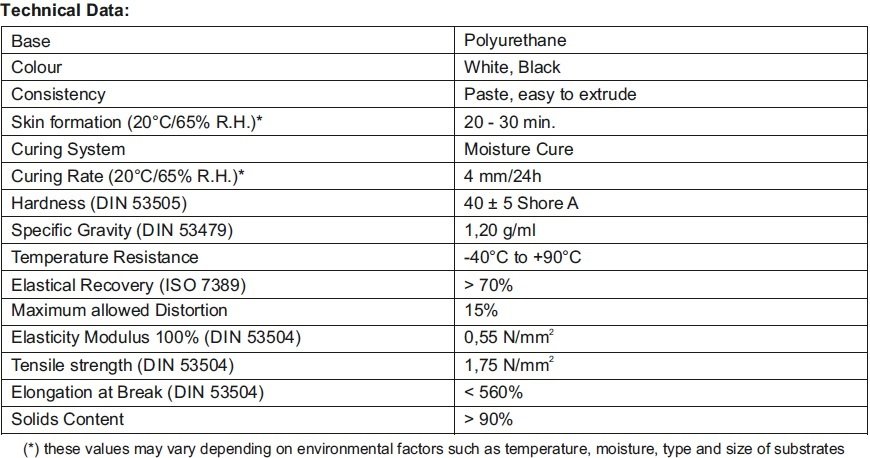 How to buy Boss PU 25 / Soudaflex 621 Soudal Polyurethane sealant for metal bonding & sealaing applications?
Boss PU 25 / Soudaflex 611 is avaialble across India including Mumbai,Pune, Nashik, Jalgaon, Akola, Nagpur, Solapur, Auranagabad, Ahemdabad, Vadodara, Surat, Jodhpur, Udaipur, Chandigarh, Ludhiana, Amritsar, Jammu, Rudrapur, Moradabad, Noida, Lucknow, Kanpur, Varansai, Indore, Bhopal, Gwalior, Agra and etc.
Kindly call us for best price, door delivery, technical support, training  on PU sealants.