MS Adhesive Technology-
Bonding/ Sealing 'Anything to Anything'
Why MS polymer adhesives and sealants 
What is a MS adhesive
Properties and benefits 
Applications
application videos
1. Why MS polymers? Traditional assembly methods and problems
Assembling materials which are not similar has always been a challenge. As a result, engineering methods have developed over the years to design parts that fit right in with each other. Some of the most common techniques we have seen include welding, riveting, fastening et cetera. However, these are not a complete solution. Alternatively, there are other challenges which are observed after the assembly process. These including the formation of stressed joints, unaesthetic assembly as well as noisy joints. When investing for labour and time, we absolutely don't desire to have the engineering aspect of the assembly go to waste.
challenges with Silicone or polyurethane sealants.
Silicones is a good sealant but not as good with bonding.
 Pu sealants- contain solvents, not UV resistant, limited elongation
epoxies have very limited flexibility
2. About MS polymer adhesives and sealants
What is MS polymer adhesive & sealant.
MS Adhesive & Sealant is a highly elastic, high strength sealant and adhesive. It has excellent adhesion to non-porous surfaces, will bond to damp surfaces and is paintable with most paints. Hybrid sealants are claimed to combine the strength of polyurethanes with the weathering resistance of silicones. In addition to their high performance properties, these sealants are achieving popularity due to their solvent-free and isocyanate-free nature and due to their formulation versatility that allows the customization of viscosity and early strength development for various applications.
Unique properties of MS polymer adhesives 
Environmental friendliness (solvent-free and isocyanate-free)
Storage stability: shelf life is excellent although sealant must be protected from
moisture
Weather resistance and durability: MS sealant shows no cracking, splitting,
discoloration or adhesion failure after seven years of testing in desert climate
Stain resistance: MS sealants do not stain as some silicone sealants do because of
low molecular weight silicon materials that bleed from the surface of sealed
joints
Paintability: MS sealants provide good paintability unlike silicone sealants
Adhesion: MS sealants provide adhesion to various substrates including metals,
plastics, wood, and ceramics.
Advantages 
MS sealant  properties are chemically formulated to match the general requirements of a high-strength adhesive. they briefly are:
High initial tack properties reduce the need for initial support.
Fast curing, a quick build-up of end strength alongwith high sheer strength after full cure (no primer).
Easy to apply and easy to tool and finish.
Remains elastic after curing.
No odor.
Does not contain neither isocyanates, silicones nor solvents.
Paintable with all water-based paints.
Excellent color stability. Likewise, weather and UV resistance.
Good adhesion on wet substrates, bonds underwater.
Looking for the perfect adhesive for your project
CALL: +91 9833892782 WHATSAPP: +91 9833892782 Email: sales@anaghaengineers.in
Uses of MS adhesive and Sealant 
Building & construction
Sealants for natural stone joints and perimeter joints
Sealing and bonding of a variety of substrates such as stones, plastics, metals, etc.
Panel adhesives
Tile adhesives
Sealants/adhesives for vibration damping applications
Mirror bonding
installation photo frames, furniture panels etc on walls, tiles- good for internal and external work.
Industry
Sealants/adhesives in the automotive and transportation industry 
Marine / deck caulking
Sealants/adhesives for solar energy modules
windscreen, glass bonding for automobiles, railway coaches
Flooring    
Parquet adhesives
Adhesives for vinyl flooring
DIY/consumer    
Multi-purpose sealants/adhesives
Mirror adhesives
Sanitary sealants
High /fast tack adhesives
How MS polymer changes the game!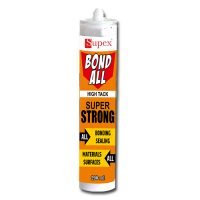 Anagha Engineers has formulated a  MS Sealant for such applications.Not only that it is simple to use but also that it does not require trained labour. Just apply a uniform bead of the adhesive onto the areas which need to bond. Assemble it against the surface that you need to bond it. Apply pressure for a minute. Finally, watch as the high tack properties hold together the parts immediately.
Where can you use MS polymer Technology?
Elastic bonding of panels, profiles and other pieces on the most common surfaces. (wood, MDF, chipboard, etc.).
Bonds without primer to mostly all materials used in the construction and automotive industry. Some of the materials on which Supex Bond ALL HT works well includes aluminium, galvanized and stainless steel, copper, zinc, natural stone, concrete, brick, HPL panels, treated wood, glass, gypsum, various synthetic materials, glass, mirror, etc.
Gluing of panels and elements in the interior and ceiling construction. Above all, it works well with wall cladding elements and ceiling panels (interior), isolation panels.(mineral wool, wood-wool cement & plastic foams, PUR, PIR, PS)
Wooden & plastic lathes, ornaments, frames, doorsteps, window sills, skirting boards as well as roofing elements.
Supex Bond All HT's bonding properties become extremely useful in extreme high-end applications. Those including marine, shipbuilding, deck, plastic bonding.
Lastly, gluing and fitting of safety glass especially used in the banking industry and fitting of cable ducts. It can as well be used for mitres in aluminium windows, mirrors etc.
MS adhesive applications in transportation indutry
MS polymer adhesives and sealants are suitable  for train, truck and bus assembly. The most common applications include:
Bodywork assembly: MS polymer adhesives offer a strong and easy to apply system for bonding bus frames, truck cabins and body structures of trains.
Sealing and bonding windows:  sealing and bonding vehicle windows and windshields. The flexibility of MS polymer adhesives and sealants guarantee high performance on windows and windshields of vehicles.
Sealing floors, roofs and interior and exterior panels: MS sealants are also used for sealing floors, roofs and side panels of vehicles. Their flexibility allows for high performance, whereas the minimum surface preparation and ability to bond dissimilar materials guarantee assembly efficiency.
Hybrid MS Sealants
Hybrid sealants are of increasing interest because they can be formulated to provide the best properties of two or more families of polymeric materials while limiting their individual inherent weaknesses. Eg, a polyether or a polyurethane polymer can be terminated with silyl groups (related to silicone polymers) to yield a high performance sealant having many of the beneficial characteristics of both polyurethanes and silicones without many of the disadvantages.
There are two main types of hybrid sealants: silyl-modified polyethers (known as MS polymers) and silyl-modified polyurethanes (known as SPUR polymers). They have closely associated chemistry and many common features. Because of the similarity of their polymer backbones, collectively these polymers are sometimes referred to as silylterminated oligomers. The main application for these materials is as sealants in the building and construction industry.
Hybrid sealants are claimed to combine the strength of polyurethanes with the weathering resistance of silicones. These sealants are achieving popularity due to their solvent-free and isocyanate-free nature and due to their formulation versatility that allows the customization of viscosity and early strength development for various applications. 
MS adhesive vs 2 part epoxies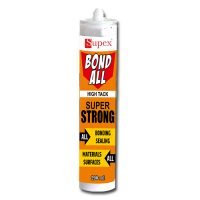 Advantages with MS polymer adhesive
no mixing required 
suitable for flexible bonding, can withstand flexing and vibrations. Epoxies are brittle after curing.
no wastage since it is one part, with 2 part adhesive extra mixed adhesive is wasted. 
tack time is quicker than 2 part epoxy, bonding is faster 
excellent environment resistance vs epoxies
no voc, no pungent smell like epoxies 
direct adhesive cost is also much lesser than 2 part adhesive systems. 
For site demo or technical discussions about how MS adhesive is better than epoxies, kindly sign up here
Looking for the perfect MS adhesive or sealant for your project?
In case you are curious about what MS adhesive & sealant  can do to your project or product, or would like to enquire about a MS adhesive or sealant, do not hesitate to contact us. Our experts make sure your application gets the Hybrid polymer system it deserves.